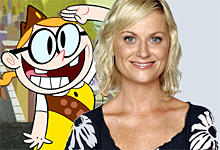 Amy Meredith Poehler (born September 16, 1971) is an American comedienne, actress and voice actress. She was a cast member on the NBC television entertainment show Saturday Night Live from 2001 to 2008. In 2004, she starred in the film Mean Girls with Tina Fey, with whom she worked again in Baby Mama in 2008. She is currently the lead of NBC's comedy Parks and Recreation. She has been nominated twice for both the Primetime Emmy Award for Outstanding Supporting Actress in a Comedy Series for her performance on Saturday Night Live, and for the Outstanding Lead Actress in a Comedy Series for her performance in Parks & Recreation.
She co-created the Nickelodeon animated series The Mighty B!, and voiced its main character Bessie Higgenbottom. It premiered around the same time as Parks, and Poehler had just become a mom, so these factors may have led to the show's demise.
She also voiced the grandmother who took in Gary the Snail in the SpongeBob SquarePants episode "Have You Seen This Snail?".
Gallery