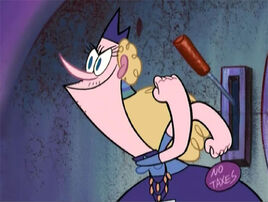 Rainbow appears throughout the show as a tour guide for the field trips that the Honeybees partake upon - one working for the Born to Be Wildlife Reserve (in the episode, "Children of the Unicorn") and at the Discovertorium (in the episode, "Body Rockers").
Although she is passionate about her tour guide duties, Rainbow seems somewhat lax about hygiene and is often seen unshaven.
Ad blocker interference detected!
Wikia is a free-to-use site that makes money from advertising. We have a modified experience for viewers using ad blockers

Wikia is not accessible if you've made further modifications. Remove the custom ad blocker rule(s) and the page will load as expected.