Something's Wrong With This Taffy
Bessie is determined to find out the trouble with the latest batch of taffy. In the end, it is "91% Pure Fake Honey" that made the taffy taste wrong.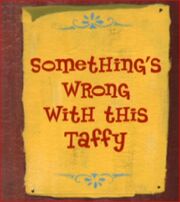 Name Shame
Bessie is horrified when Portia and Gwen learn her middle name is "Kajolica".
Trivia
Even though the Hippie said Kajolica wrong, something bad still seemed to happen.
The taffy factory has their own honeybees to make their own honey, but they claim that they can't afford real honey and use 91% pure fake honey from concentrate.
When Bessie was sneaking into the taffy factory, a track from SpongeBob SquarePants can be heard.
An episode of Ed, Edd n Eddy has a similar plot to "Name Shame", titled "Your Ed Here", as all the kids learn Eddy's embarrassing middle name, Skipper.