We Got the Bee!
is released in February 24, 2009. The DVD contains 8 episodes; "So Happy Together", "We Got the Bee", "The Sweet Sixteenth", "Bee My Baby", Bee Afraid", "Artificial Unintelligence", "Bat Mitzvah Crashers" and "Super Secret Weakness".
Cover
The cover shows Bessie holding a drumstick in the air, She is very happy to play in the band. The other characters as seen in the cover is Happy (Bessie's dog), and two classmates that is in her band.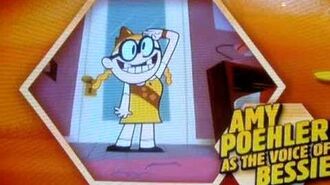 Ad blocker interference detected!
Wikia is a free-to-use site that makes money from advertising. We have a modified experience for viewers using ad blockers

Wikia is not accessible if you've made further modifications. Remove the custom ad blocker rule(s) and the page will load as expected.