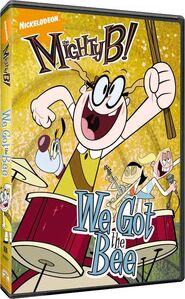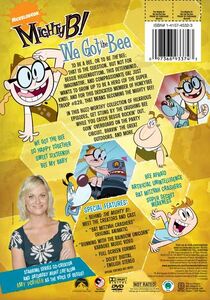 We Got the Bee! is a The Mighty B! DVD that was released on February 24, 2009, and contains eight episodes; "So Happy Together", "We Got the Bee!", "The Sweet Sixteenth", "Bee My Baby", Bee Afraid", "Artificial Unintelligence", "Bat Mitzvah Crashers" and "Super Secret Weakness" contained with in the DVD.
Cover
The cover shows Bessie near her red drum set, holding a drumstick in the air with a yellow background. She is very happy to play in the band (as seen in the cover), along with other major characters in the show such as Happy (behind, and looking at Bessie happily), with the two villains of the show in the background, Portia (while holding the microphone, and singing into the microphone), and Gwen Wu (while strumming the guitar).
Errors
In the cover of the DVD, it is seen very closely that Portia only appeared with black eyes instead of the sky blue eyes.
DVD Menu
Commercial